Overview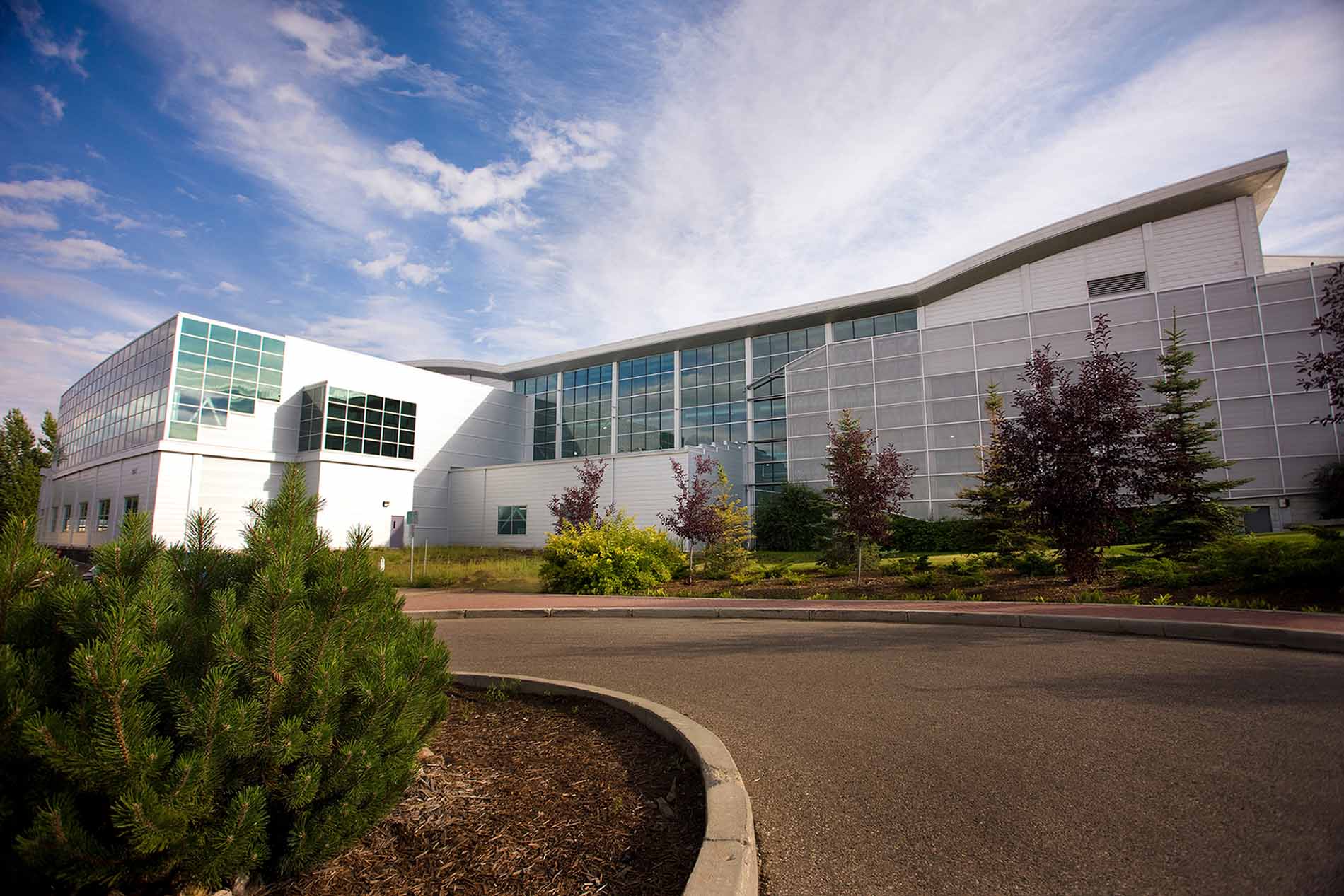 A synchrotron produces different kinds of light in order to study the structural and chemical properties of materials at the molecular level. This is possible by looking at the ways light interacts with the individual molecules of a material.
The CLS synchrotron produces light by accelerating electrons to nearly the speed of light and directing the electrons around a ring. The electrons are directed around the ring by a combination of radio frequency waves and powerful electromagnets. When the electrons go around the bends, they give off energy in the form of incredibly bright and highly focused light. Different types of light, primarily infrared and X-ray, are directed down to the end of beamlines, where researchers use the light for their experiments at endstations. Each beamline and endstation at the CLS is designed for a specific type of experiment.
About Synchrotron Light
When a synchrotron accelerates electrons, they are "bent" around corners using magnets. When the particles go around the corners they release photons, or little bits of all kinds of light. We can then filter out the spectra, or kinds, of light we want such as Infrared (IR), Ultra-Violet (UV), and X-Ray light.
Though a synchrotron is not the only way to generate IR, UV or X-Ray light, we experience substantial benefits in brightness, experiment quality and speed, along with increased ability to select specific light wavelengths. Synchrotron light is emitted when the path of an electron beam is altered via extremely powerful magnets.
Uses for a Synchrotron
A synchrotron can be used to probe matter and analyze many physical, chemical, geological, and biological processes. Information obtained by scientists from these analyses can be used to help design new medications, build next-generation technology, examine surfaces and materials to make more effective products like motor oils, develop new materials for safer medical implants, help with the clean-up of mining wastes, and find innovative ways to combat climate change to name just a few applications.
For the general public, the main purpose of a synchrotron is the research news that is published and the eductional programs for students and educators that are offered.
For scientists, the main purpose of a synchrotron is research. The different areas of research that the CLS synchrotron conducts can be split into 4 categories of technical information, each with their own subcategories.
CLS scientists work with industrial teams to develop an experimental plan based on the client's needs, providing key answers to critical questions. Learn more about the opportunities for industry professionals at the CLS.
Are Synchrotrons Safe?
The CLS is committed to providing a safe working environment for all staff and protecting the general public and environment from risks. As part of our commitment to safety, we utilize personnel safety systems, equipment protection systems and emergency shutdown processes.
Click through the list to learn about our safety protocols.
For more specific questions, including things like "What if someone gets hit by a beamline?", check out our Safety FAQs page.
Control Room management is an important part of ensuring personnel safety throughout the facility. From the control room we monitor:
Personnel Safety Systems (PSS) - includes Active Area Radiation Monitor System, Fire Alarms System, Accelerator Access Interlock Systems, Oxygen Monitoring System
Equipment Protection Systems (EPS) - includes beam position, size and quality, cooling/heating systems, vacuum systems, power supplies and magnet settings, timing systems, and valve controls
Accelerator operators disable/enable all or individual beamlines including start and shutdown processes and select mode of accelerator operation such as normal (beam available to users) versus accelerator studies
In the case of an emergency the synchrotron can be shut down automatically in less than 20 milliseconds from the control room and from several other locations manually.
Because the Canadian Light Source uses a high-energy electron accelerator to make synchrotron radiation, a licence to operate from the Canadian Nuclear Safety Commission (CNSC) is required. Some radiation produced at a synchrotron facility can be harmful. Protection of workers and scientists at the synchrotron starts with the facility design. Thick concrete walls contain radiation produced by the electron beam, and the synchrotron radiation used for science is contained within lead- and steel-lined rooms. A safety system keeps people out of these areas when the beam is on, and turns the beam off instantly if someone attempts to enter. Radiation levels in areas where someone can be present are constantly measured in different ways to ensure radiation exposures to workers and scientists are kept well below the CNSC regulatory limits. No one at the Canadian Light Source has ever received a radiation exposure greater than the CNSC public limit.
Typical Annual Exposure to CLS Worker: < 0.1 mSv
Typical Exposure from a chest X-Ray: ~0.1 mSv (millisievert)
CNSC Annual Public Exposure Limit: 1 mSv
Natural Background Radiation in Canada: ~3 mSv
CNSC Nuclear Energy Worker Annual Limit: 50 mSv
CLS will authorize an experiment only after the activities associated with the experiment have been defined, hazards have been identified, and adequate hazard controls have been implemented. A scientific proposal would be submitted for review and if it has been expected and has met all applicable requirements, a permit is issued identifying the users of safety requirements. 
Learn More
Students and Educators
CLS offers a variety of short- and long-term programming for students as well as educators from across Canada. Learn more about getting synchrotron science into the classroom.
Academic Researchers
Academic clients can submit proposals through a peer review process, get access to beam time, and more. Learn more about individual beamlines and techniques offered by CLS.
Industry Professionals
CLS scientists work with industrial teams to develop an experimental plan based on the client's needs, providing key answers to critical questions. Learn more about the opportunities for industry professionals at the CLS.