On-Site Tours
Take a free tour of Canada's only synchrotron research facility!
The Canadian Light Source (CLS) is one of the largest science projects in Canada's history. Our facility speeds up electrons to produce intensely bright synchrotron light that allows scientists to study materials at a molecular level. Over 1,000 researchers from around the world use the CLS every year. On your tour, you'll learn about our history, how our machine works, and examples of how researchers have used our facility to conduct groundbreaking research in the fields of health, agriculture, the environment, and advanced materials.
To reserve your tour tickets, please click the link below. If you would like to book a tour for 10+ people or have a group with special needs, then please email our team at outreach@lightsource.ca or call us at 306-657-3644 so we can better accommodate your group.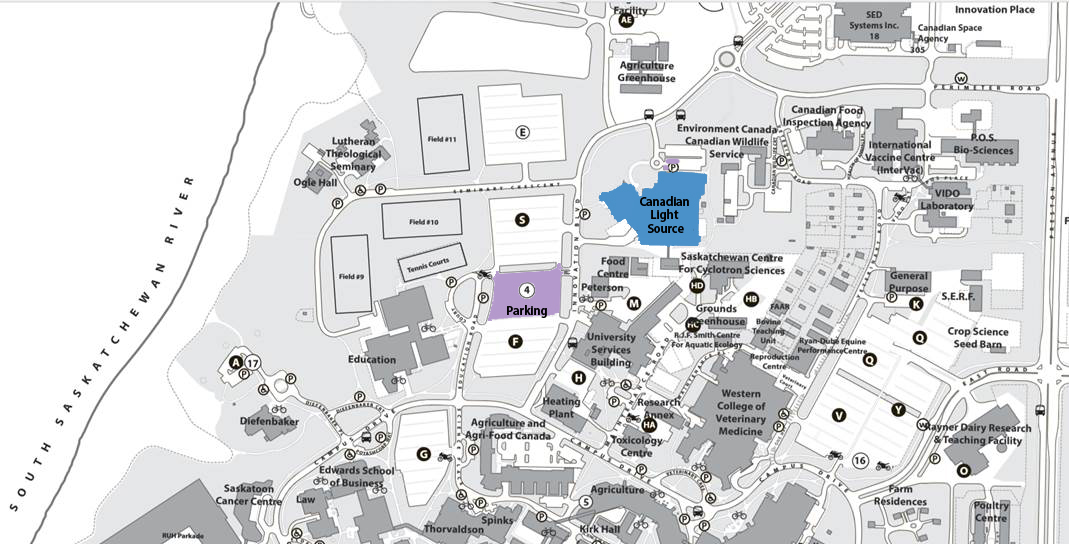 Arrival: Please arrive at CLS' reception no more than 15 minutes before your tour is scheduled to begin. Please note that due to building access restrictions, you may not be able to join the tour if you are late.
Self-Guided Virtual Tour
Welcome to the home of our virtual tour!
The CLS is used by scientists to get incredibly detailed information about the structural and chemical properties of materials at the molecular level. Their projects range in focus from mine tailing remediation to cancer research and cutting-edge materials development.
Navigation tips and tricks are found below, but feel free to jump right in and explore. The virtual tour allows you to see our facility from the comfort of your home, any time of day or night.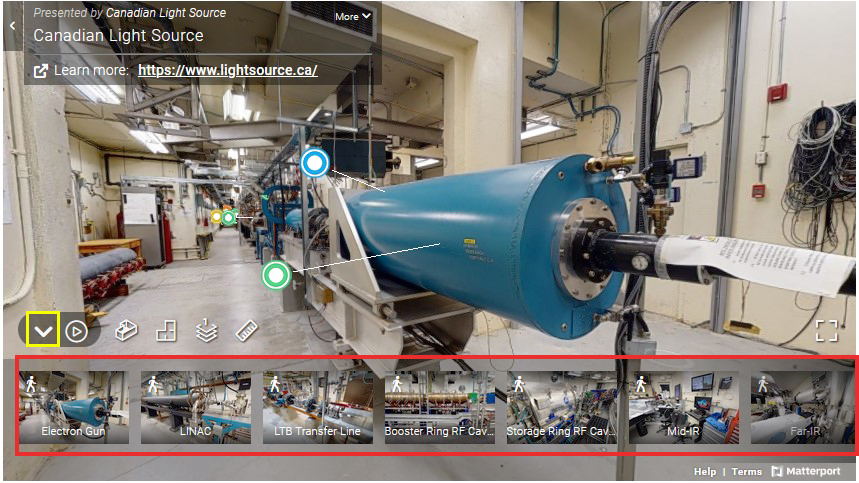 Navigation
You can navigate the space with your mouse or arrow keys. Navigation tips can be brought up at any time by clicking "Help" in the lower right hand corner. The "More Help" tab that appears in this window will also provide detailed information about the features available in the tour.
Our space is quite large, so you probably won't make it though everything in one sitting! To jump to different spaces in the facility, you can use the highlight reel found at the bottom of the frame.
The tour begins at the electron gun, where the electrons that produce our bright light begin their journey. You can jump ahead to the scientific facilities in the highlight reel.
Colour Codes
Our tour uses several colour codes to help you find the information you'll find most interesting.
▶ Purple tags share the science enabled by the CLS.
▶ Green tags explain the scientific equipment.
▶ Blue tags are for fun facts.
▶ Orange tags provide directional instructions.
▶ Yellow tags provide information about our educational programs.
NOTE: This tour was recorded while our facility was in maintenance mode, providing us with access to parts of the machine that are usually closed to staff and visitors alike. This also means that some areas are under construction, and we hope to update these areas of the virtual tour in the future.
Tour Posters
We have many posters on the walls of the CLS for visitors to read during on-site tours. Want to read them in detail? Find them all here:
Questions?
Thank you for your interest in CLS tours! If you have questions about our tours, feel free to reach out to us at outreach@lightsource.ca or 306-657-3644.
Have other questions about CLS and synchrotrons? Find answers here: