Researchers used the Canadian Light Source (CLS) at the University of Saskatchewan to create an affordable and efficient electrocatalyst that can transform CO2 into valuable chemicals. The result could help businesses as well as the environment.
Electrocatalysts help to collect CO2 pollution and efficiently convert it into more valuable carbon monoxide gas, which is an important product used in industrial applications. Carbon monoxide gas could also help the environment by allowing renewable fuels and chemicals to be manufactured more readily.
The end goal would be to try to neutralize the greenhouse gases that worsen climate change.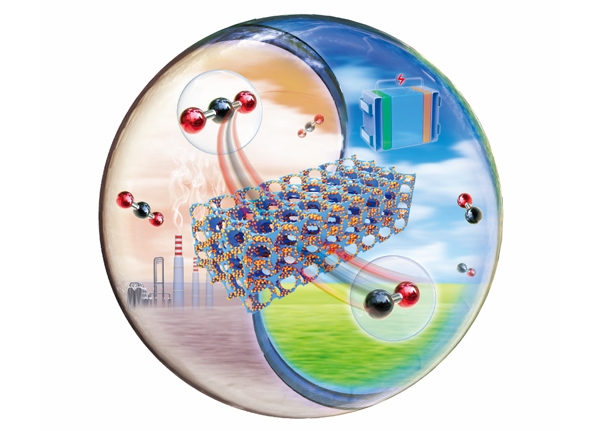 Precious metals are often used in electrocatalysts, but a team of scientists from Canada and China set out to find a less expensive alternative that would not compromise performance. In a new paper, the stability and energy efficiency of the team's novel electrocatalyst offered promising results.
"Our contribution is mainly that we introduced titanium and designed a three-dimensional nano-structure so that we can improve the activity, selectivity and stability greatly," explained Dr. Zhongwei Chen, Canada Research Chair in Advanced Materials for Clean Energy and Professor at the University of Waterloo.
Their unique structure and use of titanium successfully increased catalytic performance.
"With this new strategy we can see the efficiency go above 90 per cent and the stability is greatly improved," said Chen. "For CO2 reduction to CO, this will be a wonderful, highly active, durable and selective catalyst available for the CO2 reduction industry."
With the help of the SXRMB beamline at the CLS, the team was able to better understand the catalytic activity produced by their design.
"This beamline is very important to understand the catalytic mechanism. We have to understand what is going on so we can design a better catalyst," said Chen.
Chen emphasized the important collaboration with CLS researchers, including Yongfeng Hu and Gianluigi Botton, whose expertise helped advance the research.
The next goal for Chen and his team is to scale up their catalyst for use beyond the lab and to improve its stability. Afterwards, the researchers will test the application of the catalyst with industrial collaborators. The team is hopeful that their electrocatalyst design will help to protect the environment from greenhouse gases.
Chen, Zhongwei, Guobin Wen, Bohua Ren, Moon G. Park, Jie Yang, Haozhen Dou, Zhen Zhang et al. "Ternary Sn?Ti?O Electrocatalyst Boosts the Stability and Energy Efficiency of CO2 Reduction." Angewandte Chemie International Edition (2020). DOI: 10.1002/anie.202004149.
For more information, contact:
Victoria Schramm
Communications Coordinator
Canadian Light Source
306-657-3516
victoria.schramm@lightsource.ca