Facility Map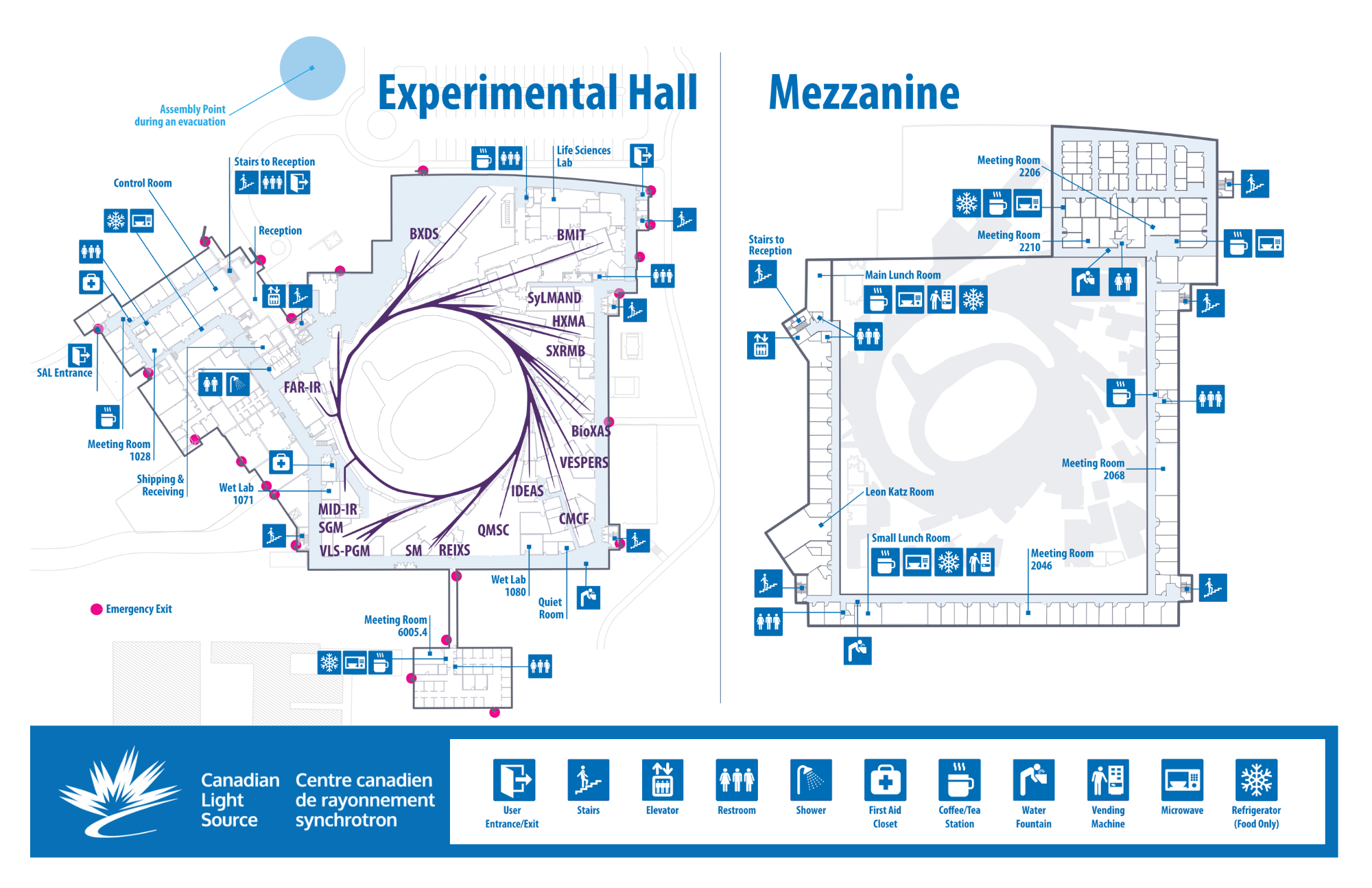 Labs and Sample Prep
Some beamlines have dedicated sample preparation facilities available at the beamline. Discuss your needs with beamline staff, or learn more about the laboratories and equipment available throughout the facility.
Delivery Services
Food can be delivered to 44 Innovation Boulevard, Saskatoon, SK  S7N 2V3 (main entrance only)
Provide a number where YOU can be reached (not the main CLS line). If you do not have a number where you can be reached, contact Reception during work hours (8:00 a.m. -  4:30 p.m.) at 306-657-3500 (or 3500 from a CLS phone) for assistance.
You are responsible for meeting the delivery person at reception. Many apps use GPS so that you can see when your driver will arrive. You need to be at reception prior to their arrival and ready to pay when they get to the CLS.




Parking
One free parking pass per beamline is available for the CLS lot. See Reception for availability.
Off-hours parking is free in the CLS lot from 16:00 – 08:00 weekdays and all day on weekends, in non-metered stalls. You may receive a ticket if parked at a meter without paying.
Parking Lot 4 is located across the street from the CLS loading dock. It has a maximum daily rate of approximately $15 (rates subject to change). Visit https://parking.usask.ca/ for details and current rates.
Transportation
Taxi
The taxi service in Saskatoon is Riide. The phone number to reach Riide is 306-652-2222 and is also programmed into the public phone in the lobby. 
The CLS is about a 20 minute taxi ride from the airport. The charge for a taxi from the airport to the CLS is approximately $25.
Uber
To request an Uber, download the Uber app or visit the website at https://www.uber.com/ca/en/ to book.
Public Transit
Buses stop outside CLS and at the Place Riel terminal on the University of Saskatchewan campus. You can plan your trip using an app such as Transit or Google Maps. To plan a transit trip using Google Maps, enter your destination, click "Directions," enter Canadian Light Source as your starting point, and then select the transit option.
Consult http://www.transit.saskatoon.ca/fares-passes for fare information. Only coins are accepted and exact change is required.
Facility Amenities
 Wifi
Look for signs around the facility for information to connect to wifi. Many beamline areas are also equipped with ethernet connections to directly access the network from your laptop.

 Printing
There are several printers on the Experimental Floor that are accessible through the wifi network. Signs at your beamline will provide connection information and point you in the right direction.
 User Lounges
Most beamlines have a space for their users to relax on the Experimental Floor. Food and drink are allowed on the Experimental Floor except in specified areas.
The Quiet Lounge is a great place to relax on a break. It is equipped with cozy chairs and blankets. It is located in room 1083 on the Experimental Floor, near the CMCF beamline.
 Coffee Stations & Water Fountains
Help yourself to free coffee, tea, or hot chocolate at one of the coffee stations in the lunch rooms (Rooms 2013 & 2037), by the BMIT beamline, or by the side (SAL) entrance. Lunch room 2037 also has an automatic espresso machine that can make lattes, cappuccinos, etc.
Water fountains are located at various locations throughout the facility.
 Vending Machines
Vending machines are located in each of the lunch rooms (Rooms 2013 & 2037).
 Showers & Lockers
Showers are located in the washrooms by the Shipping & Receiving office.
Lockers are available to reserve by the showers (near Far-IR). Contact Reception to borrow a lock.
 Winter Wear
CLS has cold weather clothing available to borrow. Contact the Floor Coordinator at 3639 for details.