How to Register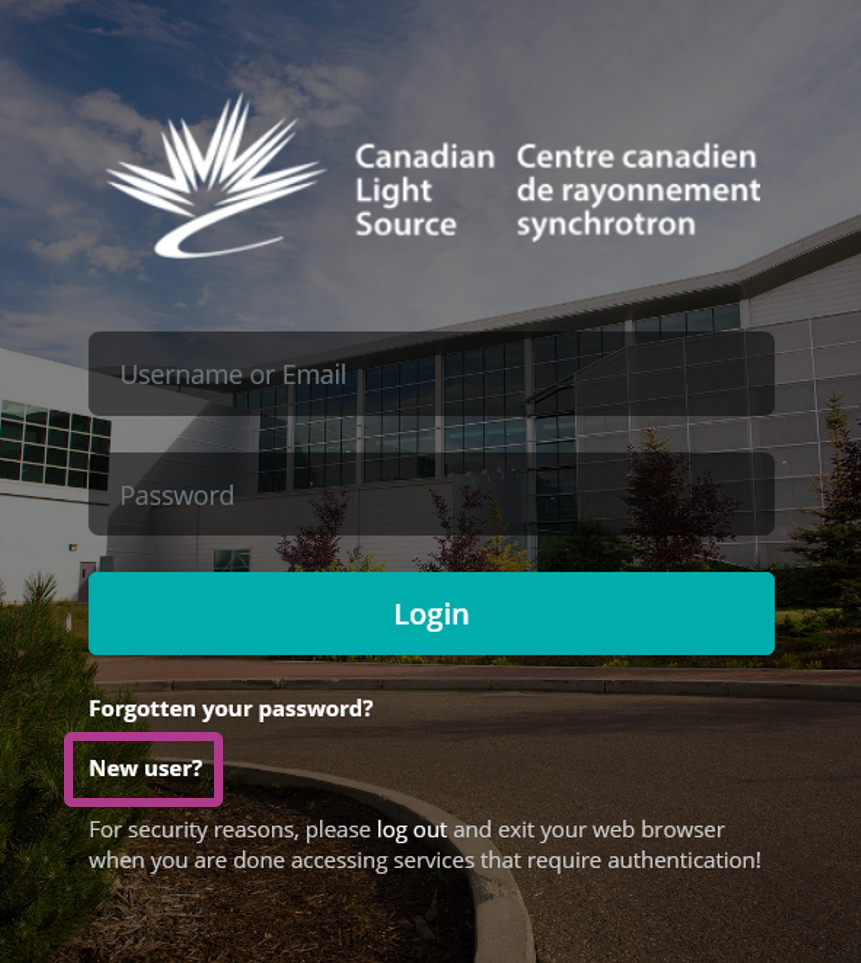 Registering for a CLS user account is a two-step process. Complete the registration form by clicking New user? on the log in page of the User Portal. Once you have completed and submitted the registration form, you will receive an email asking you to confirm your email address (if you do not receive this immediately, please check your junk/spam folders) by clicking the provided link. You will be required to set a password. A second email will be sent confirming your account has successfully been set up and provides your username.
This username and password is used for the User Portal and the CLS Training system.
On the Dashboard
Your User Portal dashboard allows you to manage different parts of your account. Different blocks appear on your dashboard as they are relevant to you.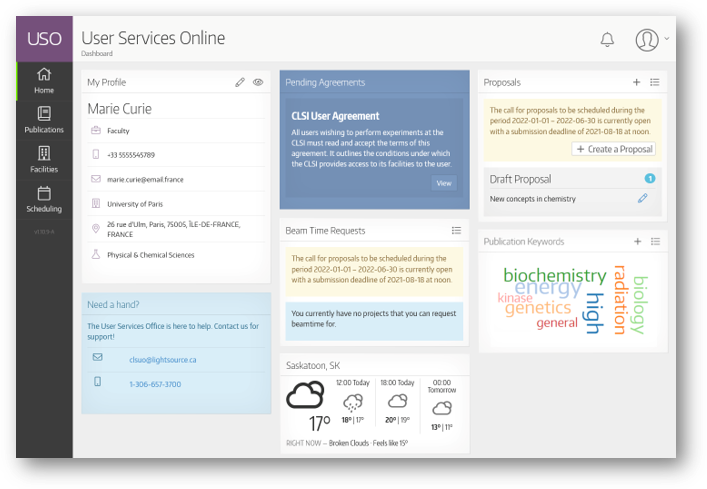 Some blocks that you will see on your dashboard are:
My Profile - Manage your information including name, contact information, and field of research.  It is important that your profile information is up to date and accurate.
Pending Agreements - View the User Agreement, or provide information for an Institutional Agreement, as required. 
Proposals - Submit a new proposal or view any of your draft proposals
Beam Time Requests - Request beamtime against an active project for the upcoming Cycle. 
Projects - View a list of your active and pending projects. 
Sessions - View Active Sessions which are linked to your electronic permit so you can sign-on at the beginning of your session.
Publication Keywords - Easily claim, add and update your publication record.
Reviews - Identifies any reviews that need your attention (if applicable)
How Did We Do? - Provide feedback on your recent experience at the CLS.
Need a hand? - Find contact information for the CLS User Services Office
Weather - See what the current conditions are in Saskatoon, SK!
You can also use the navigation items in the sidebar to learn more about Facilities and Beamlines at the CLS.
How to Submit a Proposal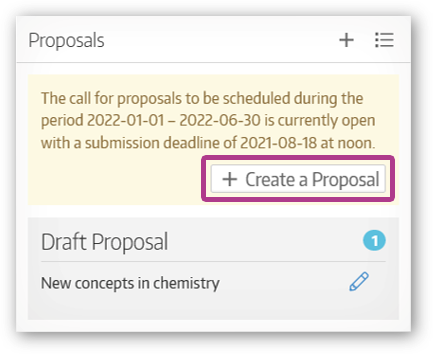 Log in to the User Portal and from your dashboard click on "Create a Proposal". Follow the prompts to create the apprropriate proposal type and complete the proposal form. 
Please note that if a proposed research project requires multiple beamlines, additional facilities can be requested in a single proposal.
On the proposal form, provide the required information in each of the four tabs: Description, Research Team, Beamlines, and Materials. Helpful tips will appear in the right-hand sidebar as you navigate through the form. Proposals can be saved as you go, and submitted whenever you have entered all of the required content.

When you click "Save" on the proposal form, the tabs will be annotated with the number of fields that are left to fill.

Click "Preview" to view your proposal before submitting. From the Proposal preview page, you can:
Add an Attachment: eg. up to 2 pages of scientific background information
Clone a proposal: This provides the option to duplicate a previous proposal and obtain an exact replica of the submitted data, with the exception of beamline information. The newly created proposal will be assigned a new proposal ID.
Delete a proposal that you do not plan to submit.
Edit a proposal: Available when a proposal has been created and saved, but not submitted. This allows the spokesperson or delegate to return to the complete the proposal at a later time. Once a proposal has been submitted, changes cannot be made.
Submit: Available once all required fields have been completed on the proposal form. 
Once a proposal has been submitted you may review it by selecting Home → My Proposals on the left-hand menu. The list provides a summary of your own proposals as well as those where you are listed as a team member. 
Beamtime Requests
A Beam Time Request (BTR) is used to request shifts in the upcoming cycle against an active General User Project and is only available when there is an open Call for Proposals. To submit a BTR, under the Shifts section of the project page, select the current cycle and click on the calendar icon, or use the links in the "Beam Time Requests" block on your dashboard.


CMCF Access: To request beamtime on beamlines with flexible scheduling (CMCF), submit a Shift Request at least four weeks in advance of your requested beamtime. Shift requests for flexible scheduling beamlines do not need to be submitted during an open Call for Proposals.
APS Access:
 Once your proposal for access to CLS@APS beamlines has been approved, requesting beamtime must follow 
CLS@APS
 procedures and respect APS proposal deadlines.
Managing Your Project
A proposal becomes a project when it has been approved via technical and/or peer review. It is available to view under Home → My Projects.  The spokesperson and delegate have the ability to edit information on the project page, such as team membership and project materials/samples.
From the project page, you can access links to the original proposal and submission details.
Permits
When a project has been scheduled for beamtime and the beamline has been handed over by the Beamline Scientist, a representative from the project team must sign on to the permit to accept responsibility for the beamtime. The permit remains valid for the duration of your scheduled visit.
All research performed at the CLS requires a valid and active permit while the experiment is being performed.

The permit identifies:
Engineering and administrative controls required to carry out the experiment safely based on the proposal and/or permit amendments
All approved samples/materials
Planned use of equipment and/or labs
On-site team members
Updating Team Membership
Add team members using the email address they used when registering for their CLS user accounts. In order to participate in the project, each team member must be a registered user with appropriate agreements (Institutional and User) in place and have completed all required training.
Amending Samples and Equipment
A project can be edited to update material, team members, equipment, and ancillary facilities.
Amendments require review and approval prior to being used. You will not be able to sign on to your beamtime session with Unapproved or In Progress amendments.
Please allow four weeks for reviews of Permit Amendments prior to the scheduled experiment. Amendments submitted after the four weeks are not guaranteed to be processed and only the last valid samples and materials can be used for the experiment. 
Amendments requiring safety approval include:
Materials/Samples - New samples not previously identified, or changes to materials/samples
Equipment - Any additional equipment or new equipment not initially identified
Ancillary Facilities - Use of any additional facilities not originally identified