Queen's university researchers have studied dust blown from legacy mine tailings at the Giant Mine in Yellowknife, NWT and determined vital information to inform future remediation efforts.
Using the CLS@APS, the researchers were able to determine the chemical form of arsenic in dust particles sourced from the Giant Mine tailings which intermittently blow into nearby communities.
"The synchrotron is really useful for looking at dust because you have this really tiny micron scale beam that you can focus on individual dust particles and get really good data," said Queen's researcher Alex Bailey, who conducted the study as part of her Master's.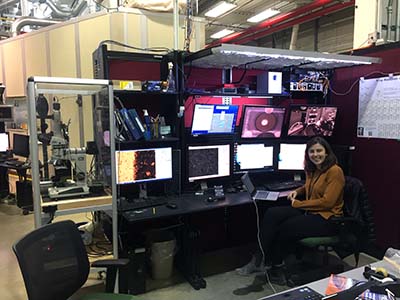 Giant Mine is a decommissioned gold mine located 5 km North of Yellowknife that is currently being remediated. The main concern around this site is the existence of toxic-to-humans arsenic trioxide which was formed as a byproduct of ore processing in the 1950s and 60s. Arsenic trioxide had been previously found in local soils and lake sediments, and there was a concern from local residents that arsenic trioxide may be present in dust generated from surface tailings which intermittently blows into the community. It was important for the wellbeing and peace of mind of nearby community members to understand what dust from these tailings might carry.
By analyzing dust-sized material from the surface of the mine tailings and dust captured from a strategic location using detailed mineralogical analysis, synchrotron, and more conventional techniques, the team was able to identify what forms the arsenic would take and its implications for human health.
The analysis showed that arsenic trioxide was generally not present at the surface of the tailings and not being blown into nearby communities. However, two other potentially hazardous arsenic minerals were identified in the dust, and this information will help guide future remediation efforts.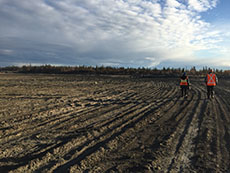 "This research was a great opportunity for me to be able to use science and these studies to actually help people and help the environment," said Bailey.
A key piece of this research, which was supported by Indigenous and Northern Affairs Canada (INAC) and the Northern Scientific Training Program (NSTP), was to share the results directly with nearby communities.
Bailey's research supervisor, Professor Heather Jamieson at Queen's, presents their results on Giant Mine at conferences, with the mine remediation team, and in community-accessible platforms in order to put newfound data into immediate use to help keep communities healthy.
"In this type of project, it was really valuable to speak with community members and other folks in Yellowknife," said Bailey. "I think it's important to work with community members and make sure that the research gets disseminated back to them."
Bailey, Alexandra S., Heather E. Jamieson, and Anežka Borčinová Radková. "Geochemical characterization of dust from arsenic-bearing tailings, Giant Mine, Canada." Applied Geochemistry 135 (2021): 105119. https://doi.org/10.1016/j.apgeochem.2021.105119
Photos: Synchrotron
Media Relations: 
Victoria Martinez
Communications Coordinator
Canadian Light Source
306-657-3771
victoria.martinez@lightsource.ca