Humans need clean water to survive, free of contaminants like E. coli that cause diarrheal diseases and kill hundreds of thousands of people every year. Now, a group of researchers have advanced the quest for an easy, inexpensive and effective filtration system that can be used in underdeveloped and remote areas of the world where accessing clean water is particularly difficult.
Dr. Gordon Huang, Canada Research Chair and professor of environmental systems engineering at the University of Regina, said the research carried out at the Canadian Light Source (CLS) at the University of Saskatchewan (USask) builds on previous work on improving the performance of porous ceramic disk filters (PCDF) for treating drinking water.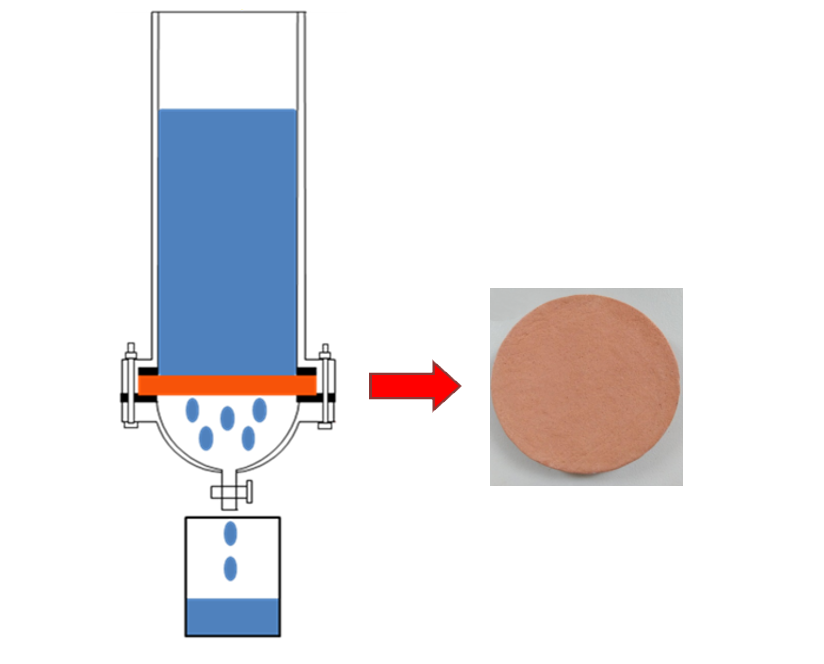 The small, disk-shaped filters often used to treat water can be made inexpensively from locally-available clay materials, he explained. They are placed at the bottom of a column container and raw water is poured in, with the weight of the water itself driving the filtration process. That means no additional energy source is required; however, the physical trapping of contaminants can clog the filters and reduce their effectiveness.
"The PCDF is a good solution for rural and remote areas because of its low price, easy operation and good efficiency," he said, "but the performance of PCDFs can be improved." Previous studies showed that applying silver to the disks improves the sterilization effect of PCDFs "but silver is expensive and there is the toxicity concern around potential silver leaching."
Seeking a better solution, Huang and his colleagues from Quebec, Memorial University of Newfoundland, and China investigated the effectiveness of applying iron-titanium dioxide (FE/TiO2) nano-composites to the disks to remove E. coli from contaminated water. Their findings, published in the Journal of Water Process Engineering, show that the low-cost FE/TiO2 nano-composites have a light-activated antibacterial effect that destroys bacterial cells.
"The performance of modified PCDFs will be better when we use them outside where the sunlight intensity is higher," he said, referring to the light-activated effect, "but the role of light in the process does not mean these systems must be operated outdoors. The removal of bacterial is still good enough without any direct light exposure."
The technologies the research team were able to access at the CLS allowed for very detailed cross-sectional analysis of the distribution of the FE/TiO2 nano-composites on the disk before and after filtration, information "crucial for enhancing the performance and optimizing the (disk) production process."
While Huang's research group focused on removing E. coli, he believes it is reasonable to infer the light-activated reaction will reduce other organic contaminants, "but this should be confirmed by a series of experiments." He added the next stage of research will involve investigating the performance of PCDFs coated with chemicals designed to remove other types of contaminants such as heavy metals and antibiotics from human drinking water.
Zhao, Yanyun, Guohe Huang, Chunjiang An, Jing Huang, Xiaying Xin, Xiujuan Chen, Yongyuan Hong, and Pei Song. "Removal of Escherichia Coli from water using functionalized porous ceramic disk filter coated with Fe/TiO2 nano-composites." Journal of Water Process Engineering 33 (2020): 101013. DOI:10.1016/j.jwpe.2019.101013.
For more information, contact:
Victoria Schramm
Communications Coordinator
Canadian Light Source
306-657-3516
victoria.schramm@lightsource.ca