Spectral Range
560 - 6000 cm-1
Techniques
Spectroscopy
ATR Infrared Spectroscopy
Grazing Incidence Infrared Spectroscopy (by special request)
Photoacoustic Infrared Spectroscopy
Infrared Polarization Modulation Spectroscopy (VCD/VLD)
Imaging & Microscopy
Chemical Infrared Imaging
ATR Infrared Chemical Imaging (by special request)
Samples
The Mid-IR beamline is ideal for studying biomedical and biological materials, agricultural and environmental samples, materials such as polymers, art specimens, and much more!
Supported sample mounts for transmission include:
A) holder for two 25 mm CaF2 windows
B) Liquid cell, uses 25 mm CaF2 windows
C) Holder for one 25 mm CaF2 window
D) Holder for four 10 mm CaF2 windows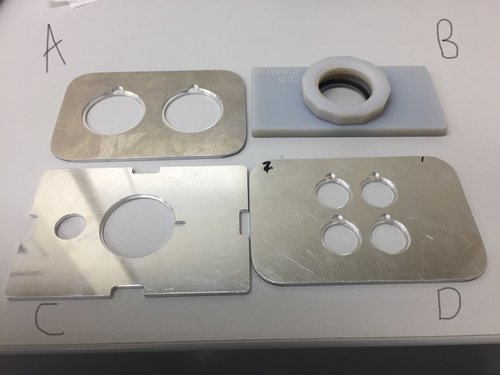 Specifications
| | |
| --- | --- |
| CLS Port | 01B1-1 |
| Source | Bending Magnet |
| Typical spot sizes | Diffraction Limited |
| Maximum Photon Flux | 1014 @ 10 μm |
| Resolution | 16.0 – 0.125 cm-1 |
Contacts
Scott Rosendahl Scientist, Beamline Responsible (Mid-IR)
---
Visit the Mid-IR website for a full list of beamline contacts.
Access
Purchased Access
Purchased access offers quick and accurate solutions to proprietary questions. CLS scientists develop an experimental plan based on the client's needs, and conduct all data collection and analysis, resulting in a detailed report with key answers to critical questions.
Peer-Reviewed Access
Academic clients can submit proposals through a peer review process. Beam time is granted based on scientific merit, with the expectation that any results will be published. In special cases, rapid access is also available for instrument or beam time.