Techniques
Imaging & Microscopy
Macro XAFS/XRF Imaging
Micro XAFS/XRF Imaging
Fluorescence Microscopy
Optical Compound Microscopy (non-fluorescence)
Samples
Typical samples used at BioXAS-Imaging are plant or animal tissues, or pieces of rock. On-site capabilities for thin-sectioning samples are available and can be arranged by talking to beamline staff.
Samples are mounted onto holders/frames at a designated area at the BioXAS Imaging beamline.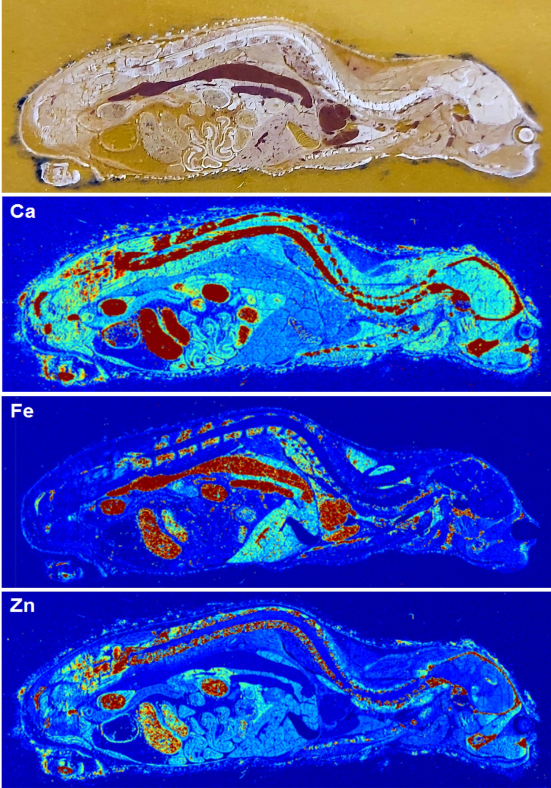 Specifications
CLS Port
07ID-1
Source
In vacuum undulator
Typical spot sizes and Photon Flux (@ 100 μm)
Macro-mode
20 µm: 0.6 x 1011 ph/s
50 µm: 3.5 x 1011 ph/s
100 µm: 0.9 x 1012 ph/s
150 µm: 1.4 x 1012
Micro-mode
6 x 5 µm (HxV): 1.5 x 1011 ph/s
10 x 5 µm (HxV): 3.2 x 1011 ph/s
Resolution
Si(111): 10-4
Contacts
Gosia Korbas Senior Scientist, Beamline Responsible (BioXAS)
---
Visit the BioXAS Imaging website for a full list of beamline contacts.
Access
Purchased Access
Purchased access offers quick and accurate solutions to proprietary questions. CLS scientists develop an experimental plan based on the client's needs, and conduct all data collection and analysis, resulting in a detailed report with key answers to critical questions.
Peer-Reviewed Access
Academic clients can submit proposals through a peer review process. Beam time is granted based on scientific merit, with the expectation that any results will be published. In special cases, rapid access is also available for instrument or beam time.