The Synchrotron Advantage
Increased resolution, faster data collection, and high elemental sensitivity to give you the answers you need.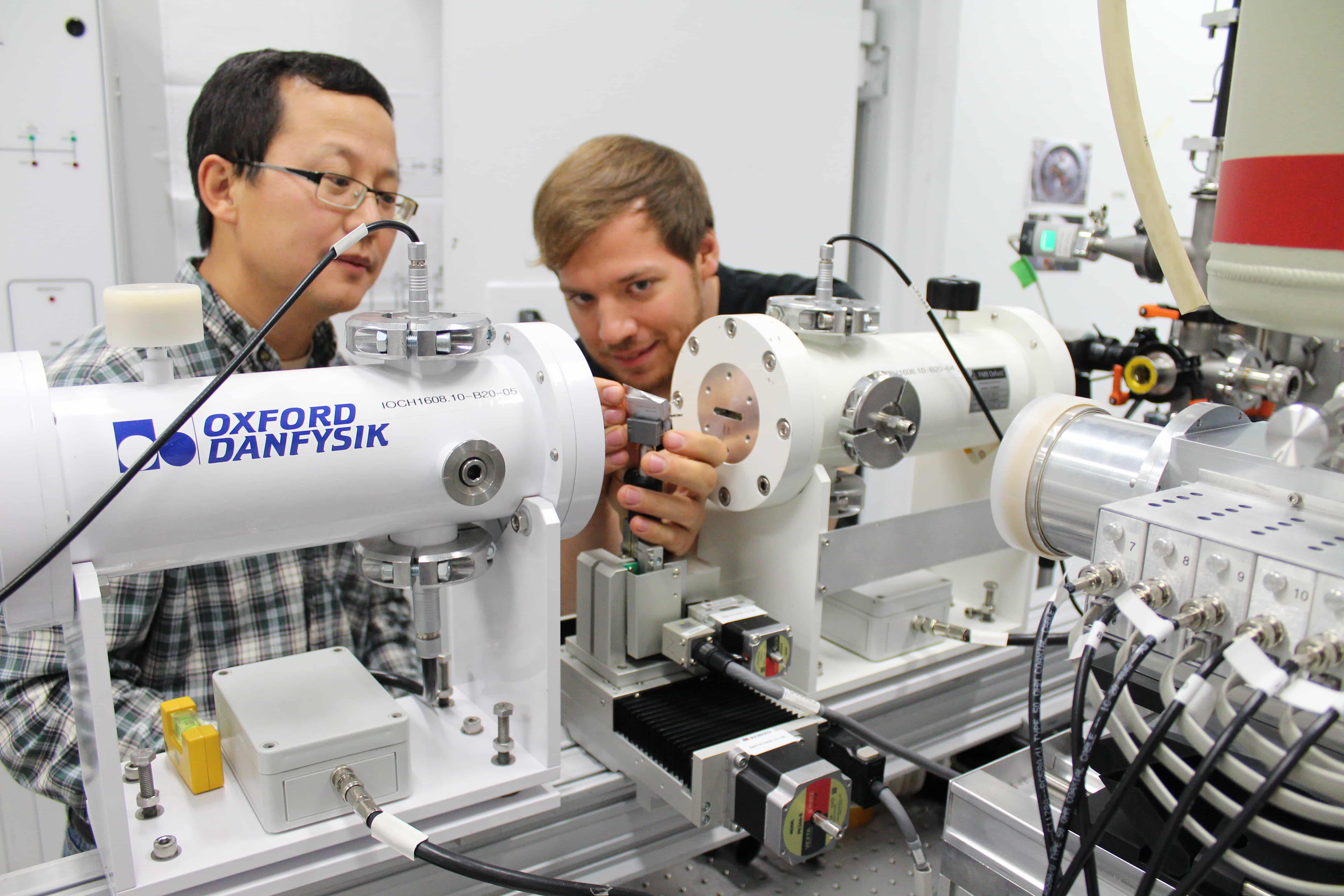 Valuable information to compliment traditional lab analyses
Non-destructive techniques requiring minimal sample preparation
In-house experts will help develop an experimental plan to meet your needs
Key information about all stages of the mining process, from exploration to waste management
An important tool fror analyzing rare-earth elements and other critical minerals
Quick turn-around times
"The CLS is becoming a standard tool that's in our research tool belt... and the mining and regulatory communities certainly recognize the benefits."
-Alan Martin, Environmental Geochemist, Lorax
Featured Techniques
The industrial services team provides analytical services for four techniques: powder X-ray diffraction, X-ray absorption spectroscopy, computed tomography imaging, and scanning electron imaging. Look through the sections below to learn more about the techniques available and their pricing.
Powder X-Ray Diffraction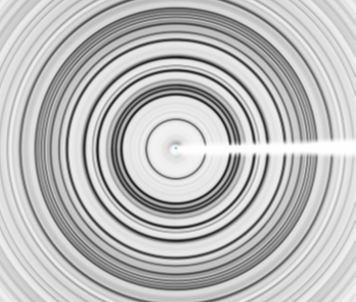 PXRD is the workhorse technique for most industries, providing information on crystal structures, phase composition, stress/strain, and crystallite size.
The excellent signal-to-noise ratio and intensity estimates of our 2D detectors makes synchrotron PXRD an ideal tool to analyze mineralogical samples that are heterogenous, multiphase materials with a wide range of grain sizes. Quantitative phase analysis can be performed on a wide variety of mineralogical samples such as dense core samples, complex clays, and soil samples.
Learn more about PXRD:
POWDER X-RAY DIFFRACTION (PXRD)
The synchrotron advantage:
Superior resolution (thinner diffraction peaks) allowing for the identification and quantification of crystalline and amorphous phases at concentrations as low as 0.1 wt%.
Higher intensity provides faster data collection time, study of smaller samples, and is helpful for in-situ and operando studies.
Tunable X-ray energy over wide energy range allows for advance measurements such as Pair Distribution Function (PDF) and strain measurements.
Applications:
CATALYSTS
ENERGY STORAGE
ENVIRONMENT
DRUG DEVELOPMENT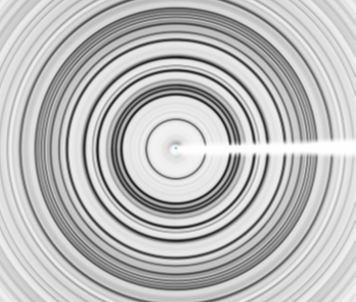 | | |
| --- | --- |
| | Starting Price per Sample |
| Data only | $210 |
| Basic Analysis (reference-intensity ratio (RIR) method) | $550 |
| Rietveld Refinement | $1000 |
X-Ray Absorption Spectroscopy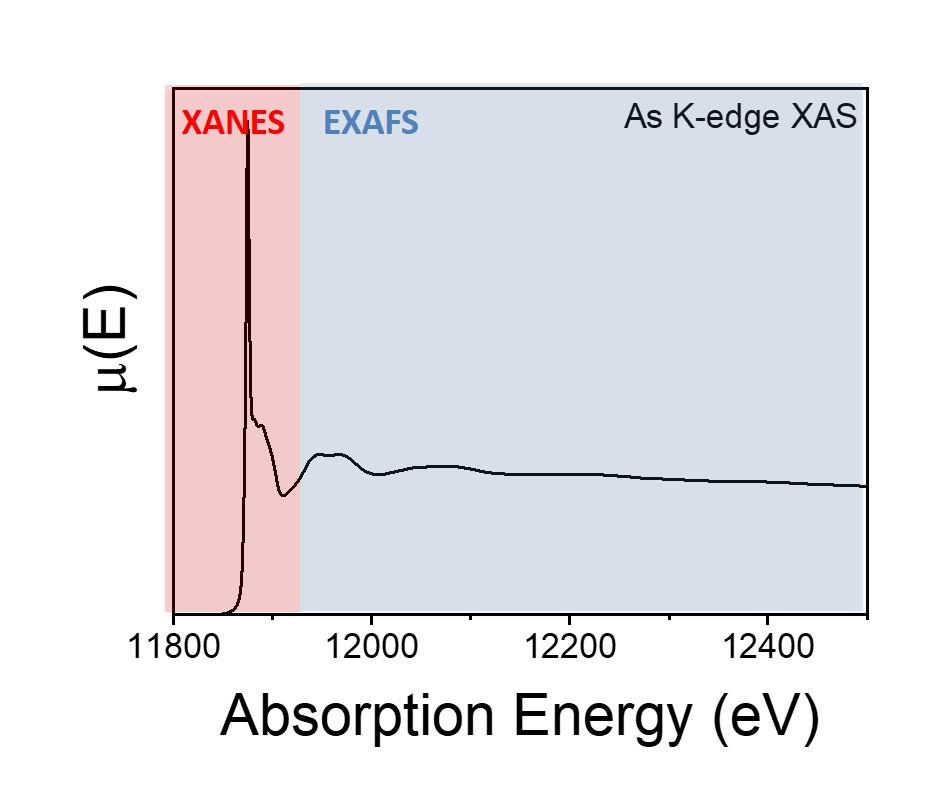 XAS is an element-specific technique that can provide metal speciation in complex materials with concentrations as low as 1 ppm. Both solid and liquid samples can be analyzed, and quantitative speciations of a wide range of elements of interest (Si to U) can be performed, such as arsenic speciation in uranium mine tailings.
Learn more about XAS:
X-RAY ABSORPTION SPECTROSCOPY (XAS)
The synchrotron advantage:
Minimal material required for analysis (<1 g).
A great advanced complimentary technique to determine oxidation states and speciation of specific elements of interest.
Does not require sample dissolution or digestion – essentially non-destructive.
Applications:
AGRICULTURE
ENERGY MATERIALS
CATALYSTS
ENVIRONMENT
BIOMEDICAL IMAGING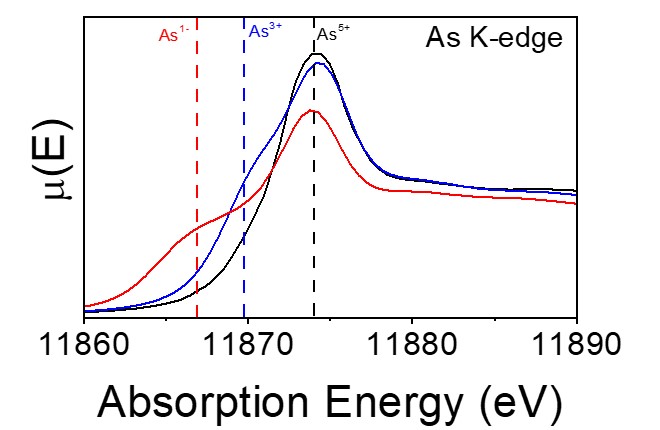 | | |
| --- | --- |
| | Starting Price per Sample |
| Data Only | $400 |
| Full XAS Analysis | $1500 |
Synchrotron CT Imaging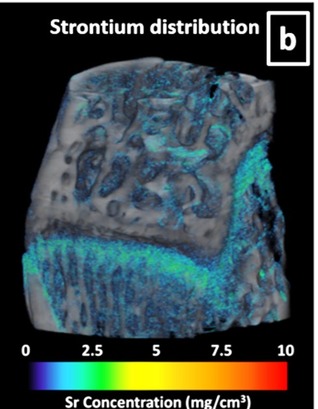 Computed Tomography provides a full 3D image of the internal structure of a material, imaging features as small as 1 micron.
3D imaging of the distribution of heavy metals (i.e. REE, Silver, Uranium) in geological samples is possible using a technique called K-edge subtraction imaging. For geological samples, CT imaging can also be used to study the porosity of rock core samples as well as the distribution of different classes of minerals. There are also applications for the oil and gas industry (e.g., imaging the pore structure in shale deposits) and REE mining and recovery (REE distribution in core samples).
Learn more about CT:
COMPUTED TOMOGRAPHY (CT)
The synchrotron advantage:
Faster data collection time.
Better contrast.
Larger imaging areas.

Applications:
AGRICULTURE
ENERGY MATERIALS
CATALYSTS
ENVIRONMENT
BIOMEDICAL IMAGING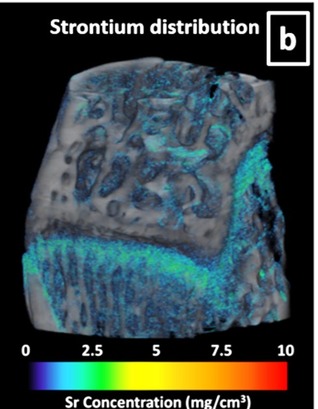 | | |
| --- | --- |
| | Price per Hour |
| Beamtime | $600 |
| Staff Time | $175 |
Please contact us for pricing. Custom pricing is available for non-standard and in-situ experiments.
Scanning Electron Imaging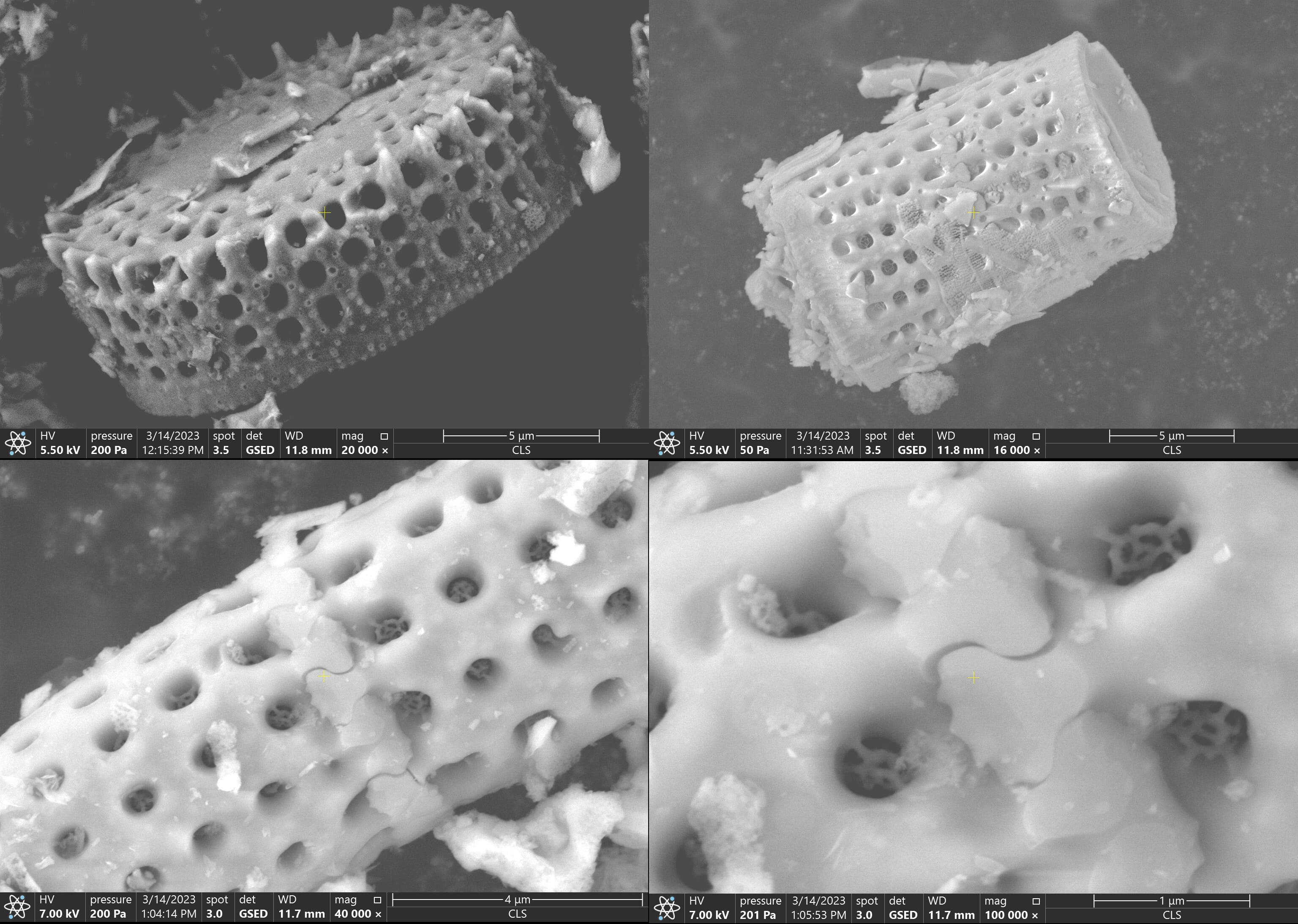 The Electron Imaging and Microanalysis Laboratory (EIML) at the CLS houses an environmental Scanning Electron Microscope (SEM) that provides complementary information to our synchrotron-based techniques.
SEM uses a focused electron beam (1-30 keV in energy) to image samples with a resolution of a few nanometers. In addition to conventional high-vacuum imaging, low-vacuum and environmental modes are possible, allowing analysis of highly insulating and wet samples. Dual x-ray dispersive spectroscopy (EDS) detectors enable elemental mapping and quantification as well as automated mineralogy analysis. The SEM is also equipped with Scanning Transmission Electron Microscopy (STEM) capabilities as well as in situ heating accessories making it a very versatile instrument for imaging and analysis of a wide variety of samples.
Learn more about SEM:
Scanning Electron Microscopy (SEM)
The EIML advantage:
Nanometer resolution.
Identification of trace minerals in complex heterogenous samples.
Wide range of samples can be analyzed.
Applications:
AGRICULTURE
ADVANCED MATERIALS
ENVIRONMENT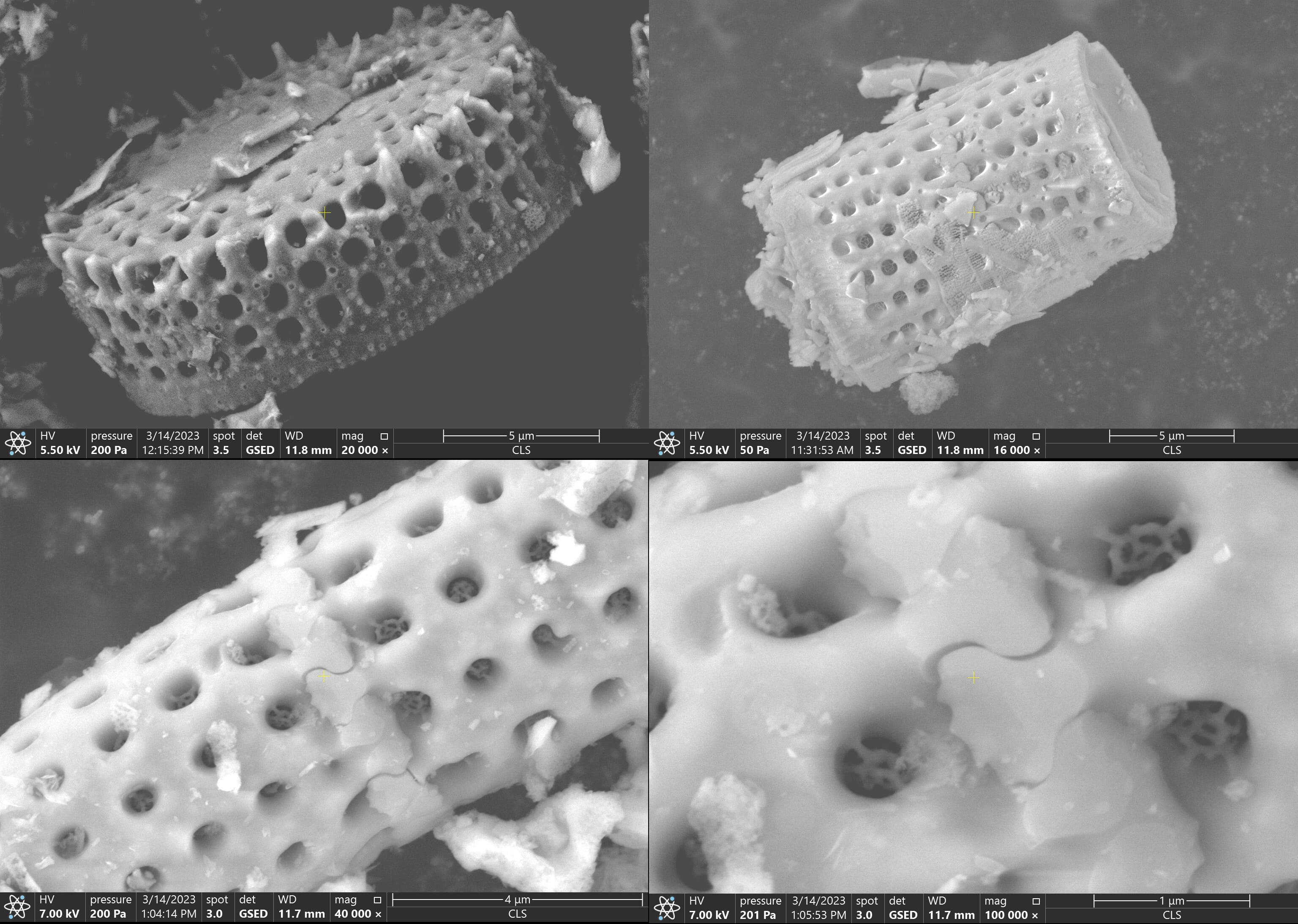 | | |
| --- | --- |
| | Price per Hour |
| Equipment Time | $150 |
| Staff Time | $175 |
Please contact us for full service, operando experiments, or other custom experiments. If you are an academic user, you can find our academic rates
here
.